Shiv's PC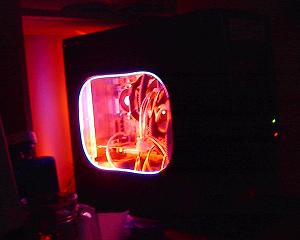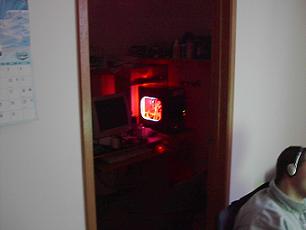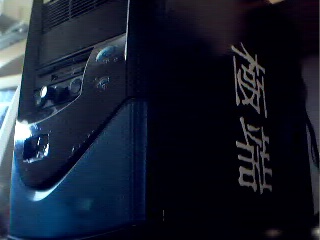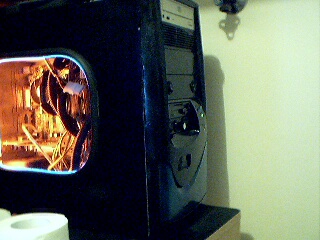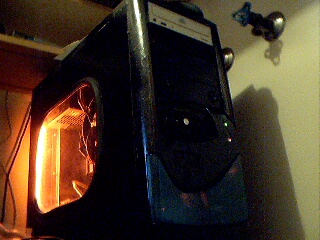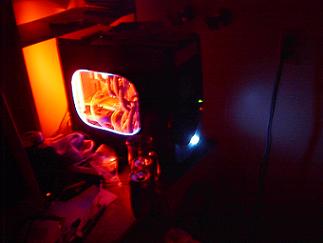 The last one is of my Linux firewall, which became my Linux fileserver, which became a piece of junk currently running Windows 98 that does nothing except suck up power. Anyway, story.

I started case modding about three years ago, after seeing the finished product of an associate. My poor generic case has been through more half-assed ideas than a Lutheran in a whorehouse; I began with a simple blue tint plexi window with a 10' blue neon, which ended up not working out when the light cakked. The lighting ended up becoming a red cold cathode with a 5' neon for a little bit of blue tint, and a strip of EL cable around the window for effect. Added the kanji decal, rounded the IDE cables with split loom, put "spiral wrap" (aka fish tank tubing) on most of the wires, and added a strobelgiht behind the bezel swoosh-thingy, controlled by a potentiometer to adjust the pulse.

All wiring, soldering, etc was done by me, with my half-electrician friend standing by to mock my work.
2.8M AVI of strobelight in action. Wicked Pic of strobelight in action.
SYSTEM
OS
Dual boot Windows XP Professional / Linux (Mandrake) 8.0
Processor
AMD Athlon XP 1700 (1.5 GHZ)
RAM
512M DDR [ 2 x 256 ]
Motherboard
Asus A7A266 [ ALiMAGiK 1 Chipset ]
Video Card
NVIDIA GeForce4 MX 420 [ 64M DDR ]
Sound Card
Creative Labs Sound Blaster Live! Value
Ethernet Card
100 Base-TX: 100 MBPS
DRIVES
CDROM/CDRW
Sonyr 32x12x24x
Floppy
Generic 3 1/2 Drive
Primary Master Disk
Quantum Plus LS 30G [ 7400 RPM ]
Primary Slave Disk
Western Digital 10G [ 5200 RPM ]
MISCELLANEOUS
Monitor
Samsung 17"
Power Supply
275 Watts
Cooling
Antec JetCool Heatsink
Generic 5 1/2" Drive Bay HD Cooler
80mm (exhaust) system fan
Audio
KOSS 75W RMS speakers
Mods
Blue tint Plexiglass window
12' red cold cathode
5' blue neon light
10" EL cable
Bezel mounted switches
Spraypainted hammered black
Strobe light behind teal bezel decoration
Homemade rounded cables
Assorted custom wiring